The Ultimate Timeless Iconic CHRISTINA O Now Available in Saint Maarten for the Christmas & New Year Holidays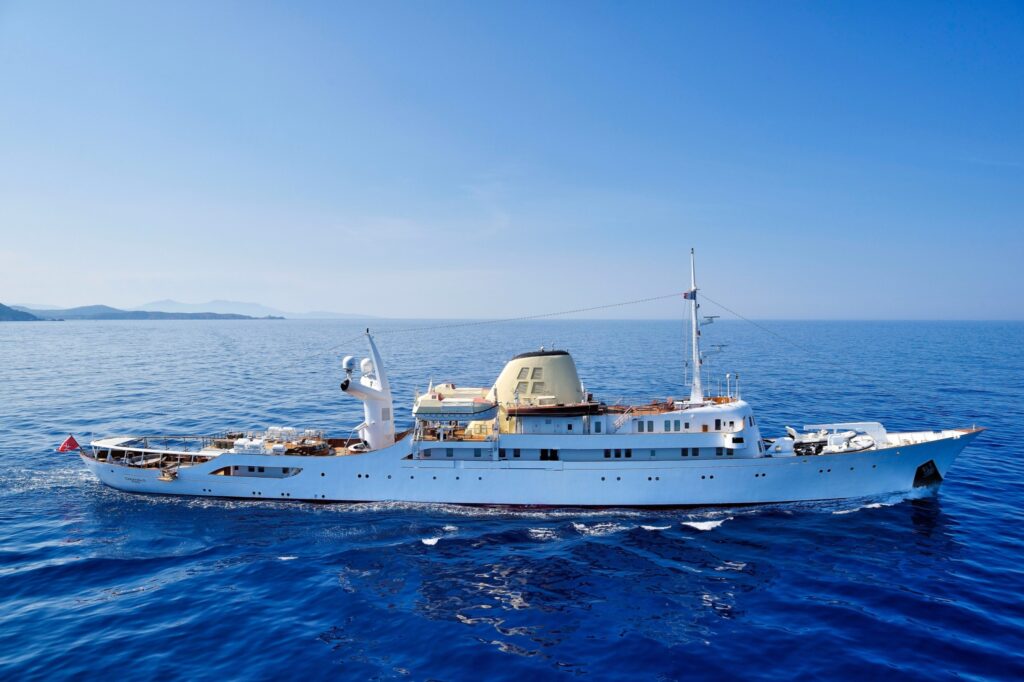 If you are looking for a unique holiday experience, CHRISTINA O is a fantastic opportunity to spend the winter holidays in the Caribbean with friends and family. Chartered by film stars, politicians, bankers and the rich and famous, this luxury superyacht defines a new level of an exclusive private charter. Get more info…

The history of CHRISTINA O is something people really appreciate and perhaps one of the most written about ships available for charter. The effect the yacht has on people who step on board is an emotional response and it doesn't matter who your guests are, they will all be delighted to spend time on this yacht.

The owner is constantly improving CHRISTINA O to meet the demands of today's charter clients. CHRISTINA O is in exceptional condition today, with enormous refit works having been done in 2016, and 2017.  Completely repainted; new aft deck bimini system; new teak decks for 2018; and a new swim platform arrangement…
The standard of food is exceptional, and the professionalism of the Chefs can be seen in both intimate private dining and large scale party catering.
CHRISTINA O is able to cruise at night, and cover large distances, so charter clients are able to discover new places every day.  A ten day charter can cover a large part of the Mediterranean
The 17 cabins (master plus 16 guest cabins) provide comfortable accommodation for up to 34 guests.
Length:  325ft / 99.1m  
Year Built/Refit:  1943 / 2021
Sleeping Guests: 34
Cabins: 17
Cruising Speeds:  15kts
Beam:  36ft / 11.1m
Builder: Canadian Vickers
Crew: Captain + 38
Flag: Malta
Caribbean Weekly Rates: €700,000 EURO plus expenses
View the CHRISTINA O Charter Brochure – https://yacht.link/2C58GCC1G1968
Tender – Toys – Amenities
WiFi  
Satcom Communications
Cinema
3-Pianos (2 original Steinway & 1 Roland RG-7)
Stabilizers
Indoor/Outdoor Audio
Swimming Pool / Jacuzzi on Deck
2 x Hacker Craft Prestige 8 passenger
RIB Tender 850
Sport Tender 720
2 x Sea Doo Spark 3 – seat
1-Sea Doo GTI 120 CV for 1 – Hoverboard
1- Flyboard
2-Ringo Towable tube
1- Towable Banana (6 Passenger)
6.5m Slide
Snorkeling Gear
CHRISTINA O is able to anchor (and within limits even cruise) with up to 157 people on board, in addition to the permanent crew, so a party of 120 people plus extra waiting staff and entertainers is no problem.
Events such as weddings and birthday parties are possible, with a minimum charter period of three days.  Why not incorporate a short cruise prior to the preparation of an event. 
Please contact us with any questions, itinerary details or booking information, we are here to help and always available. See you next week!
Faruk Kosker – USA – Bahamas – Caribbean – East & West Mediterranean – UAE – Middle East – Saudi Arabia
Port Yachting Yacht Club Team
"Search our Website for Available Charter Yachts in Destinations Worldwide"